I discovered the Game Boy Camera Gallery earlier this year while searching through itch.io. At the time it was still in development, but I found it instantly engaging. It's a great example of a "virtual gallery" on a Game Boy and I added it to my Art Cart collection. I also later realised that it was made in collaboration. The developer, Cat Graffam, had invited photographers to submit their Game Boy Camera images, via the GB Camera club discord, which were curated into the gallery experience.
Cat is also an artist and Professor in the US and I was interested how the Game Boy project fitted in with their art. I interviewed Cat recently and here's our conversation.
---
Please tell us a little bit about yourself.
I am a queer visual artist, educator, video maker, and now game developer based out of Maine! The majority of my art career has been in the fine art world as an oil painter, curator, and adjunct professor, and I have been featured in publications like The Verge, HuffPost, TIME, NH Magazine, Dazed Digital, Nylon Magazine, The Advocate, and most recently for the Game Boy Camera Gallery in Vice.
What are your experiences of using the Game Boy?
My first Game Boy was probably in '99 and it was the Game Boy Color. The same Game Boy which I actually used for all my testing! It was the only console I was allowed to have growing up, so I played Game Boy Color games for a long time. Later in high school in the late '00's I became obsessed with collecting and tinkering with Game Boys and purchased a ton of different Game Boys from pawn shops and thrift stores. I attempted to make chiptune music with LSDJ and was involved in some, now defunct, chiptune communities. The obsession dulled down until I fell in love with the Game Boy Camera in 2021 and now I can't be stopped, despite my partner's pleading.
What drew you to the GB Camera and what was your inspiration for making a gallery?
The initial inspiration came from a photo I saw from Zoe Wolfe (the "crowtography" piece in the gallery), and it was like an instant "Oh, I need to do this". The GB Camera has such an interesting quality that is not replicated by any other camera. That and the fact that I was already previously invested in Game Boys AND photography (polaroids & film photography specifically), it felt like a perfect match for me. I love tools that are inherently limited and seeing what creativity can be stretched out of them.

My background as a curator and former Exhibitions Director of Gallery 263 in Cambridge, MA and my involvement in the recent museum game, The Zium Gallery, led me to see if there were any specific exhibition style games specifically for the Game Boy camera and I could not find any! I didn't know how to make games so the initial idea was just to make a simple slideshow of photos but I realised that it wasn't interesting enough, so it grew from there.
As you are an artist, how does the Game Boy and GB Studio relate to your art practice (if it does)?
It relates in that it is radically different and for pure enjoyment. When you make art for a living, it can really easily completely ruin the actual enjoyment of making art. But GB Camera photography is so fun by nature that it is incredibly freeing. As far as professionally integrating it, I want to do physical exhibitions of GB Camera photography and I have some other ideas of making paintings from GB Camera photos, but I do not want to lose the funtography spirit of it.

GB Studio specifically has inspired me to actually want to shift into game development as a potential career pivot. It is an incredibly accessible tool that I am finding has laid a great foundation for continuing on the game dev path and it has allowed me to meld the creating process with something that is concrete and shareable with others.
Have you got plans to make more Games/Art with GB Studio?
Yes I do! I am working on the demo for a full-length adventure game with GB Studio right now (currently seeking a publisher) called "Goodbye, Montie" . The next Game Boy Camera Gallery for 2023 will be made in GB Studio, too.
From your own experiences completing a project, what advice would you give to other creators in the GB-studio community?
I might have two pieces of advice, one is more general and is something I think applies to working on any project:
Just make the thing you want to see be made, and get it out in the world. Even if it's rough or unfinished. What is the worst that can happen?
The second is: DON'T GO OVER YOUR UNIQUE TILE LIMIT, ha-ha. I…did in the beginning and I sure do regret that because I had to go back and rework a lot of assets!!
I don't know if it is important to note but I actually used GB Studio Central as a resource when making the GBCG 2022, and it was an incredibly useful wealth of information!!
---
Thanks to Cat for spending the time to chat with us. You can check out the Game Boy Camera Gallery on Cat's itch page: https://scratchingpost.itch.io/gbcg2022
Cat's site also has a wealth of art and media to experience: https://www.catherinegraffam.com/
Got an #ArtCart of your own? Contact us to let us know!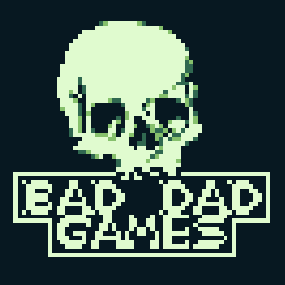 English Teacher, GB collector, Artist, Home-brew Games Maker, GB Studio Central Contributor, Proud Dad.