If you've bought a Homebrew game in the last six years, there's a high likelihood that Frank has had a part in the packaging and production. The independent retro game publisher's (not so) secret weapon, his high quality materials have elevated many projects to a more professional presentation and helped sell games. It's one of the most asked questions after sourcing carts – where does one get their boxes and manuals for a physical run? Well here's one answer to that, with our interview with Frank Westphal.
---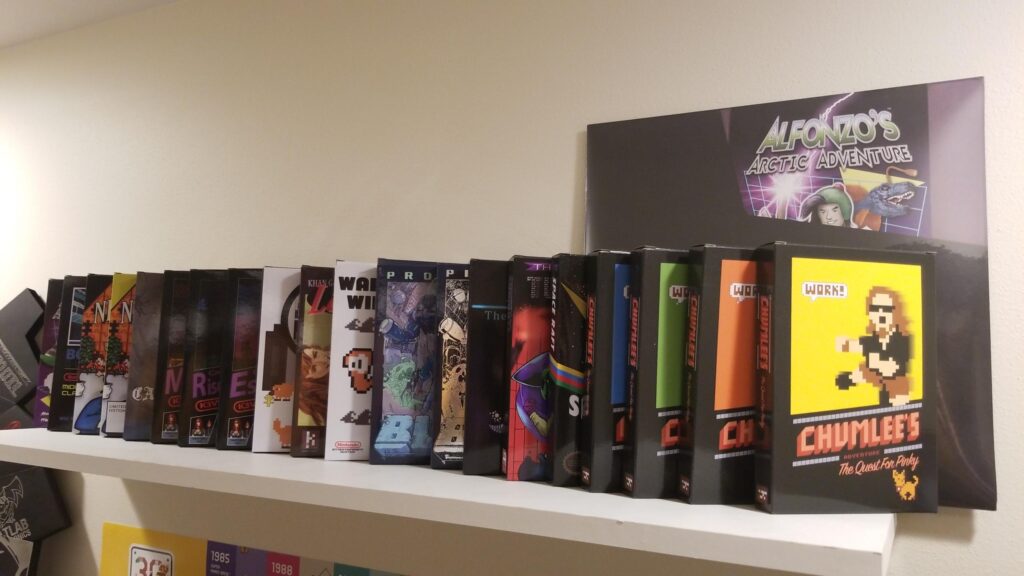 What got you into package production for retro games?
I started with my own NES homebrew game called Armed For Battle which was released in 2014. I first got a sample box made to make sure I had the NES box made correctly. Once I got that first prototype in my hands, it was like Christmas morning.
Do you have formal training or professional experience in art or package design?
I do design work with CAD software, but not related to package design. I have used that software for drawing up my own house remodeling, and it comes in handy whenever needing to lay out scaled designs of any sort.
How many boxes and game package designs and productions have you completed?
I have been involved with 34 various NES productions, not including a few one-offs where people needed a single box done. In addition to the NES, I have made close to 40 Atari boxes, around 10 Intellivision boxes, and I've only had the pleasure of 1 Game Boy box so far, with Warp Coin Catastrophe. For a full NES package, there are other components I have done, which include the manuals, cartridge labels (stickers), cartridge dust sleeves, and styrofoam spacer blocks. I might even have an upcoming project for decks of cards.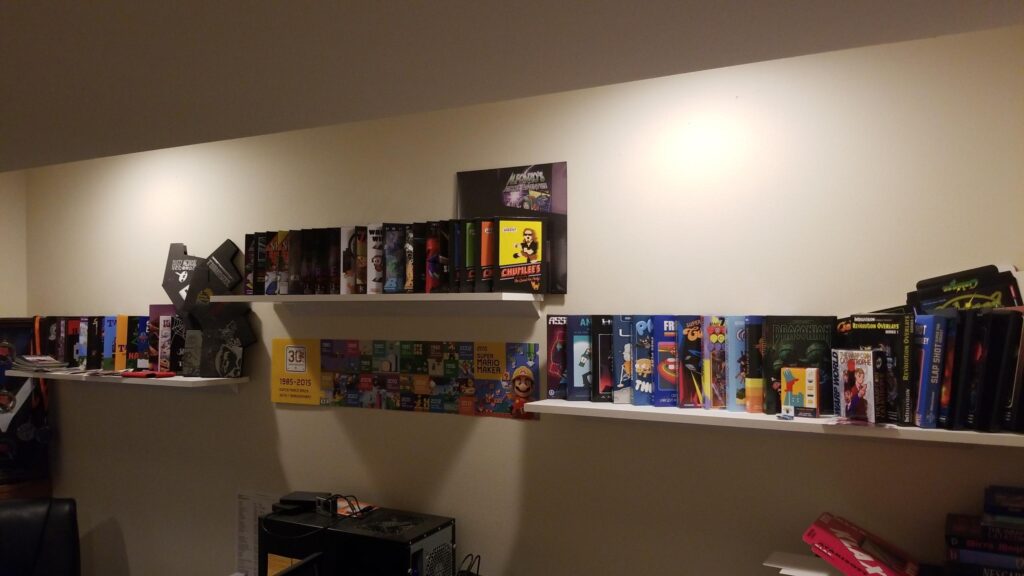 What are some memorable packages?
Some of my favorite items are the NES dust sleeves. The material used for these is like a cardstock (which is different from the original plastic ones made), but I am able to get custom logos put on the sleeves. It uses a hot stamp technique and comes out like a shiny foil – it's very cool. Only a single color can be used and I have seen silver, gold, and red so far. The NES box for a game called Project Blue actually used the foil design on the limited edition box itself. That was the first time the hot stamping was done on a box, and it came out beautiful.
I do enjoy making new items whenever they are needed. I don't pre-develop templates. When the Atari, Intellivision (2 different styles), Game Boy, and most recently SNES boxes were needed, I had to reverse engineer the layout of an existing box and work through the process of getting a successful sample made.
What can someone expect if they ask you to make a production run of game boxes? What is the process like?
The first part is a bit of back and forth on email, where I make sure someone has templates if they need them. It's fantastic when someone already has the artwork all ready to go. Some people prefer to have a sample made first, so I get that made and then a person can see it before moving onto a larger production. I have been completely comfortable bypassing the sample and going straight to production to save on time, but either scenario is fine with me.
Before the mass production, I'll provide a checkfile to look over the orientation and die cut lines to make sure things are looking good, and this checkfile provides the last confirmation before production starts. I also do my own proofreading before the production starts, so I can point out any misspellings or possible corrections that need to be made. It's pretty rare when I don't find some sort of correction to make. When the confirmation is made with a checkfile, then production can be around 30-60 days before I'm ready to ship the materials.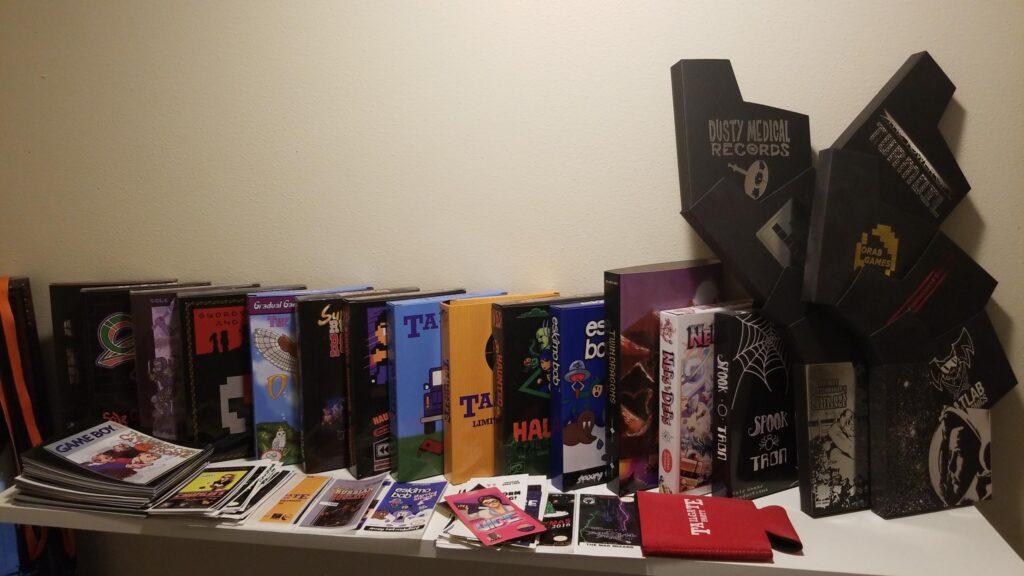 What is it about the making of the boxes you find most rewarding?
The absolute greatest part is the friendships that I have made from this. I have made some great friends which share the same passion of making classic games, and I look forward to each in-person meeting that is allowed through gaming conventions. This group of tight-knit fun people continues to grow. With the lack of conventions lately, we have been able to keep this contact going through Zoom and it brings me lots of laughs and sheer joy.
Do you have any advice for our readers?
Creating my own NES homebrew was such a rewarding experience, especially with doing a full physical release. It doesn't really matter which platform you might be developing for (NES, Game Boy, etc) – you'll also be ecstatic when you cross the finish line. I'm always open for questions whether materials are ordered through me or not – I just love chatting about classic games in general and I'll help a person if I can.
---
You can check out Frank's archived blog at http://1010howe.blogspot.com – while it hasn't been updated in years, it's still a great source of information for Homebrew development. You can also email him if you want to reach out to him to discuss physical material production for your next game.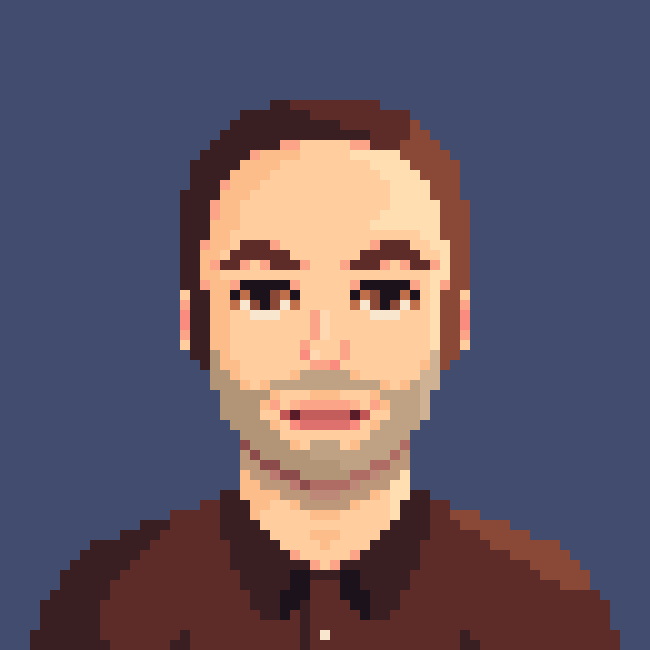 Audio Engineer, Mac Technologist and Video Game Developer. Managing Editor of GBStudio Central. (he/him)