This is a special article by bbbbbr with help from Olbafour. 17 developers whose games were published by different companies (Incube8 Games, Ferrante Crafts, Bitmap Soft, Limited Run Games and Yastuna Games) were polled a series of questions related to their releases and experiences with the publisher. We've anonymized the data here as to not single out any particular publisher, but the data is very valuable to for both the developers and publishers to know what to consider. Games released by these developers were not necessarily made with GB Studio.
Introduction
What is it like to work with Game Boy Homebrew Publishers? What might developers expect from the process?
Currently there is very little public information about working with Publishers and the terms of deals made with them. To answer the question posed above I conducted a brief, anonymous survey of indie/homebrew developers who released their games using a Publisher. The purpose of this project is to provide developers and creators with more information about the experience of working with a Publisher for manufacturing and distribution. With better information people can hopefully make more informed choices and find a good match for their project.
This survey is intended as a positive contribution to the community and is not meant to rank publishers or call out individual problems. To that end the results are only released in anonymous, aggregated charts with a focus on overall conclusions and relative differences within the range of experiences.
Operational
For this section, developers were asked to rank their satisfaction with the publisher in each operational area.
Overall, Publishers scored decently for most operational categories, and several had areas where they excelled relative to other Publishers. For example, some ranked stronger in Marketing and Promotion, while others did better in Quality of Materials and Manufacturing.
A large majority of developers are Satisfied or Very Satisfied with the quality of materials and manufacturing, as well as with how the Publisher handled it if a developer's work was behind schedule.
Satisfaction was uneven for Marketing and Promotion, but more positive for Shipping and Fulfillment.
Project Management
For this section, developers were asked to rank their satisfaction with the publisher's project management.
Results for Project Management were mixed. Not all publishers were able to follow planned schedules, however they did appear to give creative freedom to developers and ask for input on decisions.
Generally, Publishers did not request changes and alterations to games, but when they did they asked for permission first and respondents tended to agree with the requests. Support by way of additional art and music from Publishers was not very common.
Only some Publishers provided Creative Direction and Project Management, with those who did provide it receiving a moderate level of satisfaction.
Financial Terms, Structure and Reporting
For this section, developers were asked to rank their satisfaction with the publisher in each financial area.
For this section, developers were asked specific Yes or No questions about the publishing deal's financial structure.
For this section, developers were asked specific Yes or No questions about the publishing deal's revenue.
There was moderate satisfaction with the financial terms of deals and with retention of ownership and rights to the games.
While sales reports and payments were provided to almost all respondents, there was variation in how timely and complete those were.
Most respondents receive ongoing royalties from sales of their games but did not get an upfront payment.
For the most part respondents retain ownership of the game and the ability to move to another Publisher.
Several respondents noted that they were not very concerned with revenue and were more focused on having fun with the project and getting physical cartridges into the hands of players.
Several Publishers offer some form of revenue sharing, ranging from ~33%-50% of profits (i.e. after costs). Others offer a fixed amount such as 2-5 Euros per sale based on packaging type.
Communication
For this section, developers were asked specific Yes or No questions about communication with the publisher.
Publishers generally communicated with developers in a clear and understandable way, and for the most part in a timely manner. However, respondents reported mixed experiences with being kept up-to-date on project status and schedule (ranging from No/Negative to Yes/Positive).
Release Timelines
For projects that had already shipped, most did so within 1-3 months of delivering the final ROM to the Publisher. The upper bound was 7 months.
For projects that have not yet shipped, respondents reported it has been 2-10 months since delivering the final ROM to the Publisher.
Overall Sentiment
For this section, developers were asked to rank their overall sentiment with regards to their experience with the publisher.
In general most respondents enjoyed working with their Publisher and had a positive impression of them. Many indicated they would be open to publishing with them again. This was true even when there were certain categories which indicated room for improvement (for example, Shipping and Fulfillment or Communication about Project Status).
Conclusion and a Prompt Checklist
In closing, below are selected topics from the survey in prompt form. How important are these items to you? Do they matter some, none, or a lot? How flexibile are you about them?
Considering these prompts might help you determine your priorities when working with a Publisher, as well as whether to work with one or to self publish instead. I hope the survey results and the checklist have been helpful - good luck with your project!
Personal goals and intent for making the project
Amount of work to do yourself versus handled for you
Quality of materials and manufacturing (box, cartridge, manual, etc)
Shipping and fulfillment capability
Marketing and promotion capability
Creative freedom and supportive direction
Music / Art / Design support
Project management
Expected volume of sales
Preferred project timeline
Shipping timelines once development is completed
Terms for ownership and rights to the game
Ongoing payments or royalties for the game
Up-front payments for the game
Ability to move to another Publisher
Ownership of the game and its rights
Sales and revenue reports
Communication methods, styles and frequency
Project status updates
Responses from the Publishers
We reached out to the publishers to get their reaction to this survey and these were some of their responses.
Yastuna Games
I am honored to be included in this pool with so many great names. I'd like to add some additional things to consider when deciding between self publishing and going with a publisher.
A publisher is taking the financial risks, especially paying for the production upfront. It can be a lot of money, especially for quality and/or big productions. They also have to deal with stock, postage loss, damages and customer relations.
Another point to consider is availability of your game over the long term. This is a point where publishers and developers need to have the same vision at the start. There is no one correct answer, whether you only make a single run or ensure the game will be replenished, but it's best to be on the same page with the publisher from the start.
My best advice is to have fun while developing the game, share your progress with the community and listen to advice and feedback. When you think it's time, talk to publishers and other devs and choose the option you feel the most confident with. I am always open to having discussions with people, and I think this is the same for every publisher. We are in this mostly for the passion, not for the money.
Yastuna Games can be contacted at frederic@yastuna-games.com
Incube8 Games
Thanks to bbbbbr and GB Studio Central for this in-depth article about the work of the publishers. To give a bit more insights and advice about working with a publishing company let us add our input. We know that, as a developer, you are eager to find a publisher to get your game in as many hands possible (and you're right!). Self-publishing is a finicky adventure, and that's why we are here to alleviate most of the friction points (physical production, promotion, financing, customer support, shipping…).
Before reaching out to a publisher, we highly advise you to consider these points as well:
What's the aim for you to publish your game? Is your ultimate goal is to have it in a physical format or more making a living off it?
What are your quality standards? Do you have an example of what you would like for a physical release?
Is your game finished? It's easier for a publisher to make a decision if we can test a full game or at very least a full working level showing all the features and potential of your masterpiece.
Do you know the publishing industry and how it works? Don't hesitate to ask questions to your potential publisher, how they work and how they want to operate with your game.
Do you already have a preference in terms of royalties? Some publishers offer a fixed amount by game sold, others a percentage of the retail price.
Does your game need financing? That's right, maybe you want to dive deep into game development and need to work full time on it, and as all human beings, we all need to eat!
All published games need to be tied to a contract. That sounds boring but it's the best insurance for everyone. Also, there should always be room for discussion on contract terms, so don't hesitate to talk with your potential publishers. Even though we all do this for the passion and love of retro games, as publishers, we take financial risks to publish your games. It's a niche market, and small publishers rarely sell games by the thousands, which makes production costs higher than modern games (in terms of physical media). The more polished your game is, the quicker you will find a publisher. Also, have in mind the quality you would like to receive if you were in the shoes of one of your potential players!
You can find more info about Incube8 Games for developers here: https://incube8games.com/pages/developers
Ferrante Crafts
I am very happy that I have been able to help people release their homebrew retro games via Ferrante Crafts. I like to focus on helping as many people realize their dream as possible, even if that means small scale releases.
Even though I only started publishing at the beginning of 2022, thanks to the great community of people making and playing homebrew games, I have been able to release 15+ games in just one year and am looking forward to the next years.
Anyone else who has a game they would like to release is welcome to contact me at any time.
Ferrante Crafts can be contacted at ferrantecrafts@gmail.com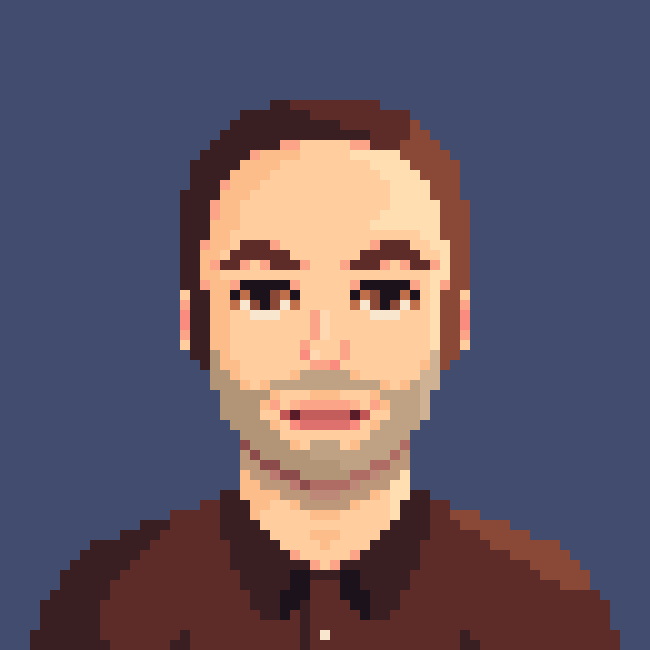 Audio Engineer, Mac Technologist and Video Game Developer. Managing Editor of GBStudio Central. (he/him)