GB Studio Central has been live for a little over two years now, and we've seen some big gains on our site this year like welcoming new members to our team and launching new products to our Shop Page. I asked our team to reflect on this last year and provide a small write up on what was one of their most memorable moments. Here is a collection of these reflections:
Pearacidic
This likely will go down as my most triumphant year as a game developer, as 2022 was the first time I published a physical video game, In The Dark. From a simple prototype to a full retail title, there was a lot of hard work, but it was nice to finally see something through. I've been modding, editing, modeling, texturing, scripting, and so forth for 20 years now, and this is the first game that I've worked on that actually went to press. It's sobering, it's surreal, and I sometimes even find it hard to believe that it happened, but it must have, because I'm working on its sequel now. Thanks to GB Studio and its excellent community, I made my dream a reality!
GumpyFunction
With the absence of a GB Compo '22 this year, it was fantastic to see Tronimal take the initiative and host a Game Boy jam for the community in 2022. Game Boy Showdown tasked entrants with creating a game from scratch within a week around the aptly chosen theme of 'Time' and featured forty games by close of submission. With some exciting prizes, including a modded Game Boy for 1st place, it was an excellent chance for the community to push their dev skills further. Congratulations go to Tronimal for hosting what I hope will be the first GB Showdown of many!
https://itch.io/jam/game-boy-showdown
Ember Bland
This year I was incredibly honoured to compose the soundtrack for Yurivania 3, the latest in Paige Ashlynn's line of GB Studio games. We'd been in each others' circles for a while, but this was the first project we've worked on together. It was exciting to adapt previous songs of the series into new tunes, while trying to fit the original's spooky theme. Paige was awesome to work with, she even got original Yurivania composer Cadence Stone on board to give feedback as well. I highly recommend you follow Paige on her itch page https://mxashlynn.itch.io/ to get notified when Yurivania 3 goes live!
Anima/SōdoDev
This year was kind of a wild ride, at least for me. I managed to learn a bit more of the internals of GB Studio, and also improved my skills in general, including outside of game development. I also managed to launch another demo for Eutomia. I had my doubts about what I had, but it seems people reacted positively, so I'll continue trying to get the game out! Thanks to the awesome people that helped me this year, let's go for the next one!
Eric Mack
Of the plethora of exciting events related to GB Studio and its community this year, I'd like to share a specific personal highlight: the V2 Beta shirt! It might not sound like much when compared to the releases of games, jams and even a new engine, but the shirt reminds me of something special. V2 Beta was the tool with which I truly learned game development. While I've since moved to 3.0, the V2 Beta shirt will always remind me of my experiences learning game dev with the help of the community through the discord and GBSC articles. Thanks for a great year!
2bitcrook
2022 has truly been a whirlwind of a year! Whilst I initially joined the GB studio discord in late 2021, it was this year when it all began to snowball. It didn't take long for me to realise I'd entered one of the most welcoming communities!. From joining the mod team, to writing my first article for GB Studio Central, to being shown the inner and outer ropes of tile swapping by Bryan (of both Rollins and Taylor variety), it's been a bloody brilliant time! Can't wait to see what next year brings!
Retro Faith
My favourite part of 2022 is getting to chat with so many awesome devs who use tools like GB Studio to bring us a constant supply of Game Boy titles to play. There is something special about playing a new game for an old system and seeing all the passion poured into them is wonderful. I'm not great with the technical side of making games, but I love hearing the human stories behind them. Hearing about the memories, experiences and challenges is heart-warming at times and I enjoy getting those stories out there for other devs to read.
Coffee Bat
2022 was truly a year where I was able to shine in content creation. Even if I've been dabbling with game development since 4th grade and I made tons of games in 2020-21, this was the first year I felt my contributions (as a composer and sound programmer) were big steps onto something else. Getting my name out there and seeing other people outside my bubble enjoy and interact with my work has been a blast. As tiring as composition can be, I love the feeling that comes after taking a step back and looking at what you've made, maybe there'll be no other year like 2022 for me, but it was good while it lasted.
Emi Paternostro
While I'm super proud of many things this community has produced, there's something special that sticks in my mind about the development of the Platformer Plus plugin, as it's story reflects the nature of the GB Studio community and represents part of our mission on this site. Earlier in the year, GumpyFunction had pitched the idea of creating improvements to GB Studio's platformer engine with myself and a few other devs. While we agreed on what the improvements should be (coyote time and jump buffering for example), we needed someone who was up for the challenge to make these changes to the underlying engine code, which is written in C. Shortly after, a huge stroke of luck happened when Byucknah joined the GB Studio Discord and starting asking about the viability of similar platformer improvements. Not only were they on the same page about what changes needed to be made, but they also were up to getting it work in the engine code and sharing their edits to the engine!
Thanks to their diligent work and generous sharing, we were able to release an article about how to implement these changes yourself, and followed up shortly with another article that provides more useful changes for platforming. This being our best way to share this knowledge, it still left some things to be desired – mainly the effort it took to implement these changes which involved ejecting the engine and modifying lines of code. Wouldn't it be nice if someone could wrap all these changes into an easy to use plugin that had easily changed parameters? Well, thanks in part to the way we share our knowledge with the community, hauntology swept in and did just that. Platformer Plus began as an easy to use way to implement the changes that we shared, but over time they have continued to add and improve it and it is now a must have plugin for anyone wanting to make a platformer game in GB Studio. We hope some of the improvements made with Platformer Plus eventually become integrated into GB Studio's core.
---
Thanks to the team for contributing to this review, and thanks to everyone in the community for continuing to support this site and each other. We're going to take a bit of a break here for the holidays and come back refreshed for the new year. See you in 2023!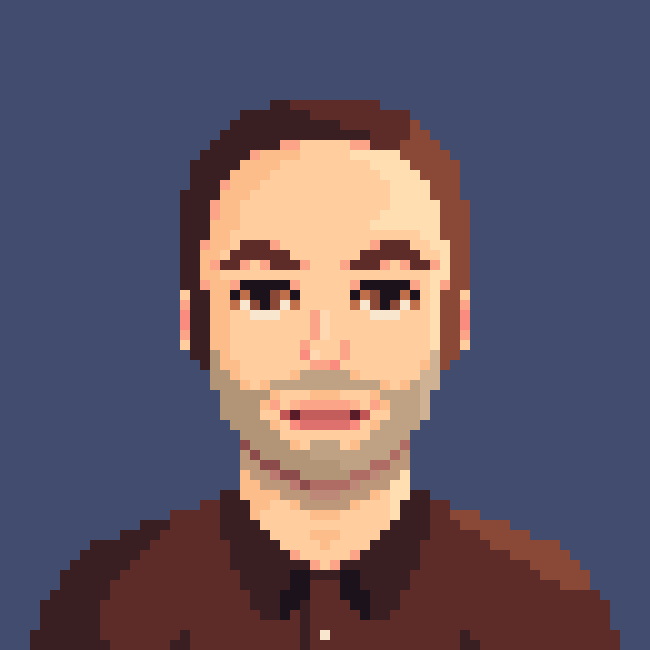 Audio Engineer, Mac Technologist and Video Game Developer. Managing Editor of GBStudio Central. (he/him)