It's hard to believe just how impressive it is to load up a Game Boy game in the year 2023 and see professional-level pixel art, hear crystal clear voice samples, and experience snappy, addictive gameplay. And yet, Mr. Papshmir, also known as Marco Windrich, and his team, have managed to make players believers with the standout Gameboy/Gameboy Color game: "All Humans Must Die!"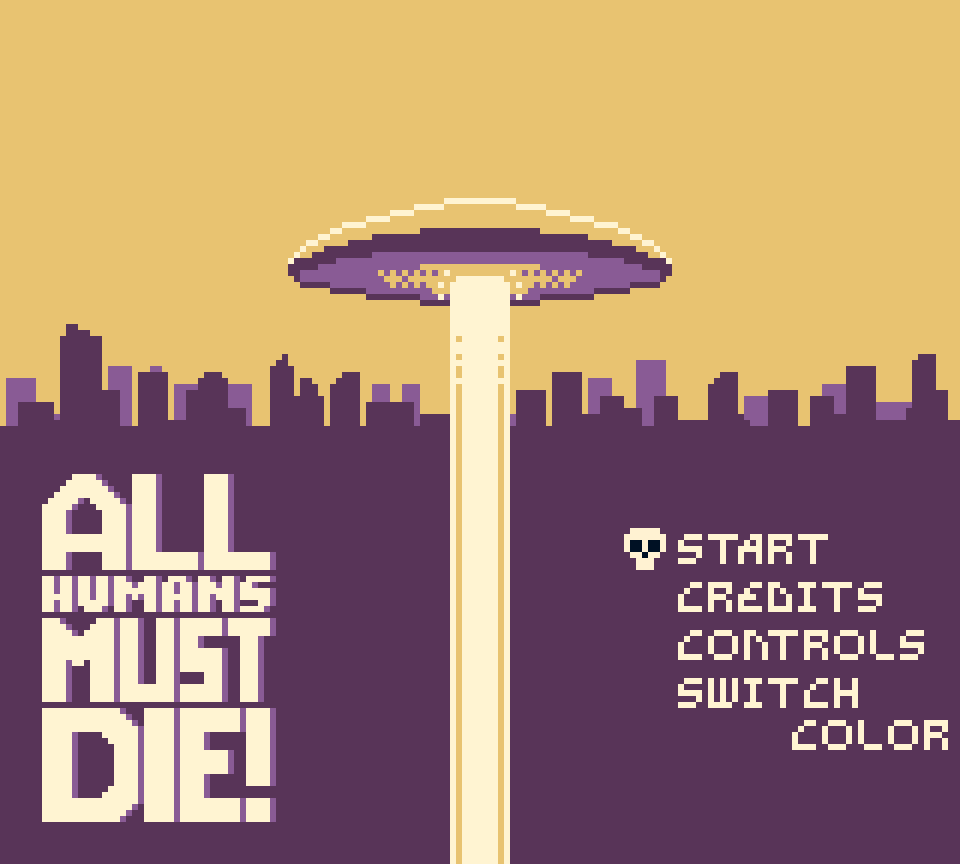 "All Humans Must Die!" started as a GBCompo 2021 entry, but has since been refined into the experience that it is today, with three action-packed levels of this pocket sized arcade-style shoot 'em up. The level of polish the game has achieved is immediately evident: from the second the game loads, the player is greeted with an all-too-cool boot up screen, where you are given the option to choose DMG, Black n' White, Color, or Nostalgic Mode under a 3D rotating computer chip. When even an intro screen has this level of options and details, it's hard not to be impressed.
The game itself starts out fast and furious: a voice sample echoes "I've got a gun!" before the action starts and you're faced with humans running amok in the streets while you try to dodge bullets and vaporize your enemies. The first level, however fast and furious, provides a nice introduction to the game and its mechanics. There aren't too many bullets to dodge, and there's enough room to get your footing as you step into the role of an evil alien, bent on destroying humanity (true to the title of the game). It makes for a good warm up for the more difficult, but more satisfying second level where you're faced with even more bullets and even more people in the streets, running at variable speeds.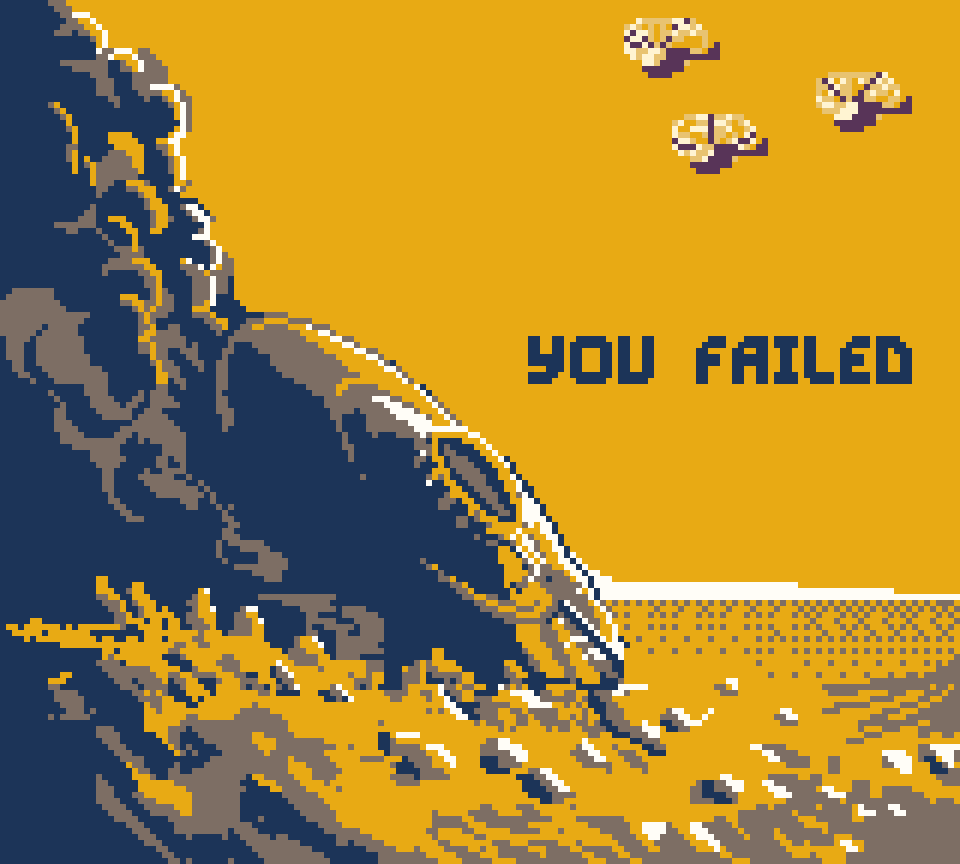 Though I got my first game over because I was distracted looking at the lovely pixel art in the background of the game, it was hard to be mad about it, because the game is just that fun and nice to look at. I even found myself bobbing my head to the rhythm of the music, which was expertly created by musical juggernauts, such as Tronimal, Coffee "Valen" Bat, Mouse Drinker, and Vault Kid.
Once you complete the third level, you're shown your score and given a rating. Upon my first completion, I was given a satisfactory score of 4125, and given the rating of "God Mode." Of course, I immediately tried to improve my score and died shortly after. Yet, I was still compelled to try again and again, which is always a good sign when it comes to arcade-style shoot 'em ups.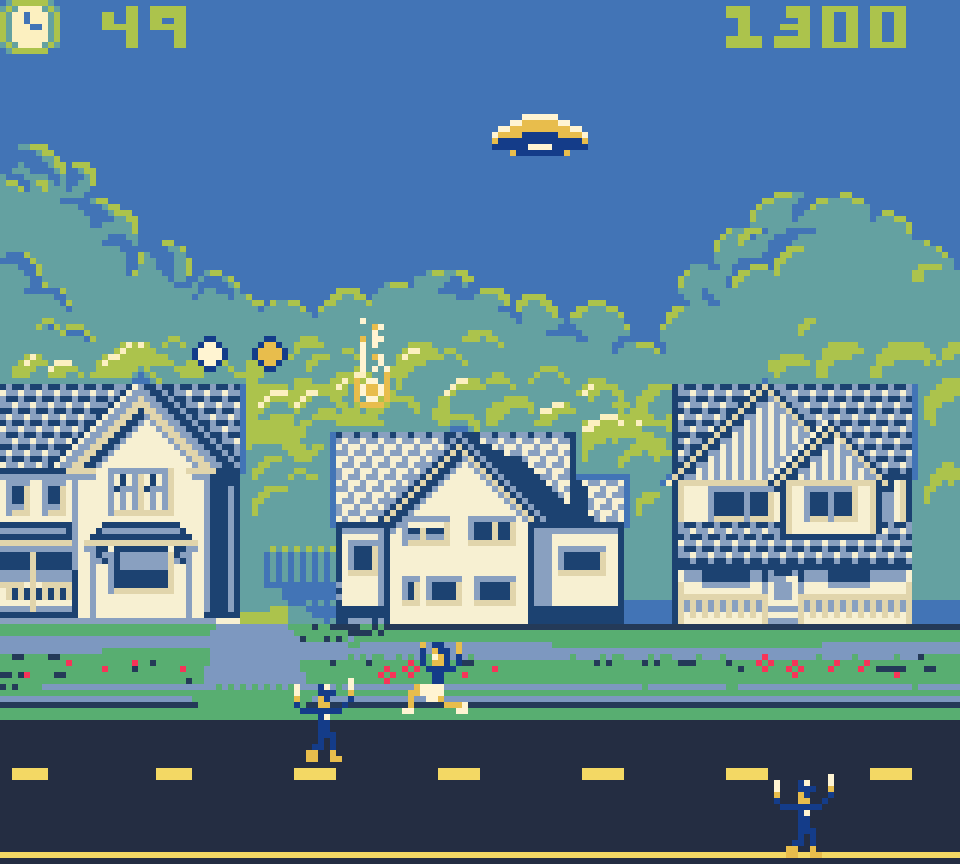 Though hard to believe one can just load up a gameboy game as impressive as this, "All Humans Must Die!" has certainly made me a believer, and if you want to vaporize some little folks, head over to Marco's Itch page and give the game a try. Any rough edges, if there ever were any, were already vaporized by Marco and his team, leaving the game a polished, smooth experience. Congratulations to Marco and the team that worked on this game!

An indie developer focused on utilizing the Gameboy as a storytelling medium. A pixel artist, pixel art enthusiast, teacher, writer, and founding member of Wrong Way Games. Play my games at my Itch page here!