When selecting which games to spotlight for GB Studio Central, I try to look at what makes a game unique. What is it that they bring to the table that hasn't been done, and what can be learned from its release. Sometimes, this means looking beyond the "surface" of the game itself and instead take a step back and examine how a game was made or what the goal was in making it. At first glance, Putrid Shark does not appear to be a specifically remarkable game. It's setting and story is fun, a play on classic "point and click adventure" style game, where you are exploring a town fulfilling a series of quests to progress in the character's search for the fabled Putrid Shark. What first caught my attention with this game was the developer's live-tweeting the experience of trying to make it (thread starts here):
I absolutely love seeing developers document their experience creating their games. I also love when they are honest and transparent about the challenges that can arise. GB Studio is a great tool to make games with, and it's attractive for first time developers thanks to its easy to use interface, but it's not without its quirks and difficulties. Figuring out how to translate your vision into a workable game can be difficult, especially when you're handling everything on your own. In her thread, Carly details the roller coaster ride of trying to implement an idea and then accomplishing it, something many of us can relate to.
Some highlights for me:
What's more, into the thread Carly states how the game itself started as a "joke gone too far":
I reached out to Carly and she had this to say about the experience:
Putrid Shark actually started as an offshoot music project between some musicians on the Fourth Strike label from my band, The Garages. We were joking about the idea of starting a noise band, and so I floated the idea of making a silly game to promote the album, and the whole thing kinda kicked off from there. Originally, we weren't taking the band or the game seriously at all, but both turned into projects we were passionate about during development.

House Phone (Carly Besterman)
Carly is a narrative designer and musician who performs under her solo project, "House Phone". She is also part of other musical groups, Girls Occur and The Garages. The Garages themselves cross over different media being based on the online game phenomenon "Blaseball", which leads nicely into Putrid Shark's multimedia presentation. Putrid Shark is another band that Carly performs in, and their first album was released shortly after the game.
I absolutely love this kind of cross media production with my own game's characters based on a podcast I was working on at the time. Gaia's Seed from BiFrost Bridge Studios is another example of a work of media that crosses over many different platforms. Every medium has it's unique advantages and ways of communicating ideas, and by exploring those different media you can both provide different ways for your audience to enjoy the material and also bring in audiences that may have not been aware of your work prior.
Truthfully, I don't think I would have ever discovered the work of Putrid Shark: The Band were it not for Putrid Shark: The Game. And while their self described noise/sludge/doom/experimental music may not be everyone's cup of tea, I certainly enjoy its vibe, and I also played their music in the background while playing the game to see where the "feel" of things converge.
I really hope more people share their development process the way that Putrid Shark's was done. In a relatively short time frame they were able to conceive, develop, test and release a game to coincide with a musical release. I also hope to see more developers create trans-media concepts that allow me to explore different platforms and discover new content.
You can play Putrid Shark: The Game for free here: https://worsterman.itch.io/putrid-shark
You can also listen to Putrid Shark's debut album on bandcamp: https://putridshark.bandcamp.com/
Putrid Shark is also part of the Indie Bundle for Palestinian Aid hosted on Itch, where you can buy 1000+ games for $5 with all profits going to the United Nations Relief and Works Agency: https://itch.io/b/902/indie-bundle-for-palestinian-aid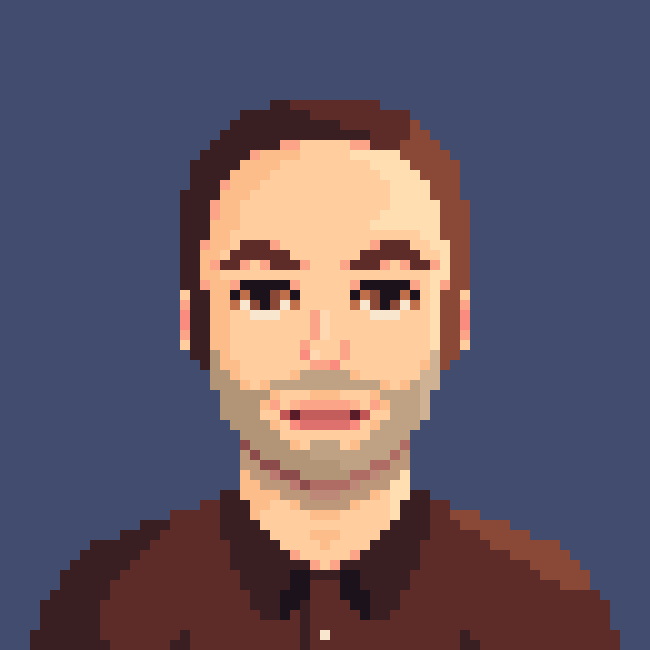 Audio Engineer, Mac Technologist and Video Game Developer. Managing Editor of GBStudio Central. (he/him)